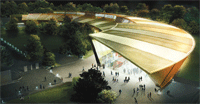 A major new centre for the visual arts opens in Colchester on September 25, the same day as it hosts its first exhibition.
Firstsite, a new building designed by Rafael Viñoly Architects, will hold international exhibitions of contemporary art.
The crescent-shaped building has been created around the newly restored Berryfield mosaic, discovered in the Essextown in 1923. The mosaic, which dates from around 200 A.D, formed part of the floor of a Roman town house.
Firstsite's first exhibition will be Camulodunum, the Roman name for Colchester. The exhibition will celebrate the cultural and artistic heritage of the region and the town that became established as the capital of Roman Britain.
The exhibition will show the town's important Romano-British artefacts alongside works by Barbara Hepworth, Henry Moore, Grayson Perry, Andy Warhol and Ai Weiwei, as well as four commissions by international artists Michaela Eichwald, Aleksandra Mir, Karin Ruggaber and Danh Vo.
The site is bounded by Colchester's original Roman wall and spreads over 3,200 sq metres (3,827 sq yds). The building will also house the University of Essex's collection of Latin American art, learning spaces, a bar/restaurant and a 190-seat auditorium.
Firstsite will be open daily 1000hrs –1900hrs (1000hrs –1700hrs Sundays), admission free. The Camulodunum exhibition runs from September 25 to January 22. Groups can call 01206 577067 or visit https://firstsite.uk/ for more information