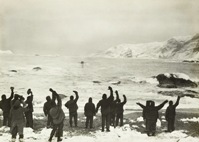 The next exhibition at the Queen's Gallery at Buckingham Palace in London will mark the centenary of Captain Robert Falcon Scott's ill-fated journey to the South Pole.
The exhibit, entitled The Heart of the Great Alone: Scott, Shackleton and Antarctic Photography runs from October 21 to April 5 and brings together for the first time a collection of photographs recording Scott's Terra Nova expedition of 1910–13 and Ernest Shackleton's polar expedition on Endurance in 1914–17.
The dramatic Antarctic photographs were taken by George Herbert Ponting and Frank Hurley and originally presented to King George V. The exhibition also includes unique artefacts such as the flag given to Scott by Queen Alexandra which he took to the Pole.
Antarctic adventurer David Hempleman-Adams said: "Nowadays you can go on Google Earth and see what's there. Back then it was just a big white piece of paper. Scott and Shackleton had no TVs, radios or satellite phones. They were cut off from the outside world."
Scott's expedition ended with the death of five of the expedition team and the Shackleton expedition involved a heroic sea journey from Elephant Island to South Georgia.
Visit www.royalcollection.org.uk for more information. The Queen's Gallery is open daily from 1000 to 1730hrs from October 21.