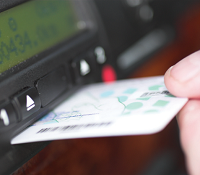 The DVLA have confirmed new procedures will apply to drivers requesting a replacement or duplicate driver tachocards because of a change of personal details or a lost/stolen card.
Following discussions with the CPT, from September drivers will no longer have to travel to a DVLA Local Office or Heavy Goods Vehicle Testing Station to pick up a new card and hand the old card in.
The new card will now be sent by the DVLA directly to the driver's home address. In addition the agency will provide a pre-paid envelope for the return of the old card supported by a formal declaration to be made by the driver.
The DVLA said it will be checking its procedures are followed and drivers failing to do so could be liable to a penalty.
CPT has asked its members to ensure drivers correctly follow the procedures to avoid DVLA imposed penalty payments.