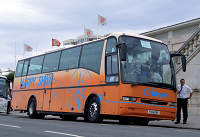 Coventry-based Harry Shaw and City College Coventry have teamed up to provide the college's PSV students with transportation to and from the college from September.
Neal Turner, head of the college's Faculty for Technology said: "City College is one of the few providers of PSV courses in the UK and because of that we get students coming to the college from all over the country. We do all we can to look after them, arranging host families and transportation to and from the college. Harry Shaw won the transport contract because its tender was competitive and we believe they will take the care and attention which needs to be given to these young people, most of whom are away from home for the first time."
The college has been running PSV Training Programmes for major bus and coach companies for over 30 years. The course is run on a block release basis with students attending between one and four weeks at a time. PSV students are looked after by Host Families who help the students ease into their new surrounding by providing a friendly, homely environment.
John Shaw, operations director at Harry Shaw and former PSV student added: "We are delighted to provide this service for the students. It's great to think we will play a small but vital part in the provision of their training."
Marija Vilcins, accommodation & welfare officer at the College said: "It's great that we have always used local companies for transporting our students. Ensuring our students get to college safely is only a small part of the process."
Visit Harry Shaw Travel on-line at www.harryshaw.co.uk or City College Coventry at www.coventrycollege.ac.uk/