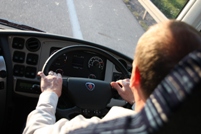 Scania has unveiled a bespoke service dedicated to enabling operators to achieve the very best possible economy and operational efficiency from their fleets.
Based on an all-encompassing programme of vehicle, driver and maintenance optimisation, Ecolution by Scania has been proven to deliver considerable operational savings.
"Since it was announced at the IAA Hannover Show in 2010, Ecolution by Scania has been undergoing extensive trials with operators and within Scania's own transport operation, Transport Laboratory, which sees trucks running regularly between our production plants in Sweden and the Netherlands," said Martin Hay, UK Truck Sales Director for Scania (Great Britain) Limited.
"In carefully controlled trials with a Swedish operator running at 56 tonnes, fuel consumption was reduced from 48 to 35 litres/100 kilometres. A second operator, running at lower weights in Switzerland, achieved savings of approximately 10%, while our own Transport Laboratory reduced its fuel usage by more than 25% within six months. Our sales and aftersales support teams are now trained in Ecolution techniques and we are now looking forward to delivering the kind of benefits shown by these trials to the UK."
The Ecolution programme covers four specific areas:
Optimised vehicle specification: Whereby Scania works in conjunction with operators to ensure the vehicle and options specified are optimised for the transport task in hand.
Driver training: Scania recognises that achieving maximum fuel efficiency is largely dependent upon driver performance. The programme of driver development delivered by Scania's in-house team of driver trainers therefore focuses on enhancing drivers' skills with a range of advanced fuel usage- and efficiency-improving techniques.
Driver follow-up: Once trained, a driver's performance is likely to fall back from its peak unless s/he receives regular follow-up and coaching. Ecolution by Scania combats this in a number of ways, from the incab Scania Driver Support system to regular performance reviews, where fuel usage data and driving style information captured by the Scania OnBoard telematics system is discussed with drivers on a oneto- one basis.
Maintenance+: A carefully constructed maintenance regime which takes an holistic view to ensure every part of the vehicle is operating to its maximum potential.