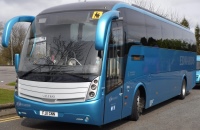 Llantwit Fardre-based operator expands into Pembrokeshire after speedy O-licence authorisation increase from 210 to 260 vehicles
Edwards Coaches of Llantwit Fardre has come to the rescue of the majority of staff and customers of Silcox Motor Coach Company Limited (SMCCL), after the Pembroke Dock-based firm hit financial difficulties.
According to companycheck.co.uk, SMCCL has liabilities of £1.1m, assets of £286,400, a net worth of £680,000 and cash of £540. Wilson Field, a company specialising in Business Recovery, Insolvency and Financial Solutions is handling SMCCL's affairs.
Edwards Coaches has taken on the operation of approximately 28 home-to-school transport routes previously run under contract to Pembrokeshire County Council (PCC) by SMCCL, along with four local bus services, one of which is the Haverfordwest Town Service. Other local bus routes have been taken over by Edwards Bros of Tiers Cross, First Cymru and Taf Valley – the latter two operators have also stepped in to take care of some school contracts.
Speaking to CBW as this issue went to press on Monday, Jason Edwards, Commercial Director at Edwards Coaches told CBW: "We examined the possibility of acquiring SMCCL as a going concern, but we found the business was not salvageable owing to the level of debt it was carrying. The business was put into administration. It did however, benefit from some solid customers and a team of really great staff. PCC were going to be left high and dry – we felt obliged to help.
"Our level of expertise is home-to-school transport, tours and private hire, rather than local bus service work, which is reflected in the fact the main focus for us was to cover the school commitments."
The move means Edwards Coaches has expanded its operation deeper into West Wales – and it now runs from eight depots. Previously, the firm's most westerly operating centre was located in Carmarthen, where Edwards' work includes school contracts on behalf of Carmarthenshire County Council.
Edwards vehicles for the Pembrokeshire operation are based at PCC's site at Tenby Coach Park. The Silcox depot is owned by New Inn Travel, Silcox's parent company.
"Everything will be run as Edwards Coaches on our O-licence," enthused Jason.
He was keen to stress: "We have been supported by the Office of the Traffic Commissioner in Leeds. They responded almost overnight to our application to increase our O-licence authorisation from 210 to 260 vehicles. We can't praise them enough.
"Some operators are quick to criticise the staff there, but they pulled out all the stops after we explained the situation. Put simply, without the increased authorisation, children would be unable to get to school on Monday (June 6) and staff would not get paid this week."
Asked about resourcing the operation, Jason said: "We've got a small army of Edwards staff helping out there. The industry is so busy at this time of year. We're using our own fleet down there. We were lucky to have spare vehicles – which we were originally looking to sell. They include 14 Caetano Levante-bodied Volvo B9Rs, which we've recently cascaded from our National Express diagrams – and our three MCV Evolution-bodied VDL service buses, which were previously used on our commercially-operated local routes in the Llantwit Fardre area, until they were replaced by MCV-bodied Volvo B8RLEs. Our workshop staff in Llantwit Fardre have pulled out all the stops to prepare these vehicles for service in Pembrokeshire."
Describing the Pembrokeshire expansion as "effectively a re-run of Diamond" – a reference to the former Swansea-based coach tour operator which Edwards acquired certain assets out of receivership in 2011 – Jason said most former SMCCL staff have gained employment with Edwards.
Jason said he was unaware of what was happening with the former SMCCL fleet – except to say that discussions were "underway" with the receiver.