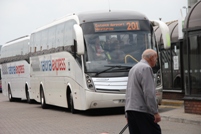 New Swansea depot for coach holidays and National Express work – if all goes to plan
South Wales family-run coach and bus operator Edwards Coaches is set to expand its coaching activities with the take over of First Cymru's National Express work and the creation of new operating centres.
Confirming the news, a spokesperson for National Express told CBW: "The contract to operate services 201, 508, 528 and 322 will shortly transfer from First Cymru to Edwards Coaches. As part of the change a number of drivers will also move to the new operator and we are currently working with First Cymru to ensure this is handled in a sensitive manner. The move will have no impact on National Express services between Swansea, Heathrow and Gatwick Airports which will continue to run as normal."
Asked about the National Express contracts, Jason Edwards, Director at Edwards Coaches told CBW he was "unable to comment at this stage."
However, a First spokesperson told CBW: "We can confirm First Cymru will soon cease to operate National Express services in South Wales. The company had been in lengthy discussions with National Express over the future operation of services 201, 508, 528 and 322. Following these discussions it was decided that in the best interests of all parties, the contract to operate the services should be passed to a third party from a date early in the early summer.
"It is expected that a number of staff currently employed by First Cymru in its coaching division in South Wales will be transferred to Edwards under normal TUPE arrangements.
"The decision to cease operating National Express services in South Wales follows the transfer of service 202 to Edwards Coaches earlier this year. First Cymru will cease to operate the latter from June 2.
"Other First Cymru coaching services such as its Greyhound service between Swansea and Cardiff, and other private hire and school contract work is unaffected by this decision and will remain as they are."
However, First said its Cardiff Depot still runs the occasional duplicate service for National Express and this is likely to continue despite the loss of the main contracts.
To operate the new service, CBW understands 16 new Caetano Levante-bodied Volvos are set to join the Edwards fleet – in addition to the five already on order for the Heathrow contracts.
Edwards has also gained authorisation to change its operating centres. Significantly, a new 40-vehicle depot has been created at 15B Dyffryn Close on the Swansea Enterprise Park.
Commenting on the Swansea development, Jason Edwards said: "We've invested a considerable sum in buying the old D Coaches yard to allow us to park a number of coaches. It also includes offices a workshop and an interchange for our coach holiday customers, where they can leave their cars if they wish. We feel there is massive potential in Swansea."
New operating centres have also been granted at Wentloog Park, Rumney, Cardiff (30 vehicles); Aberllechau Road, Wattstown, Porth (eight vehicles); and at Wimborne Road, Barry (15 vehicles).
However, the firm has decreased its vehicle authorisation at its headquarters on the Newtown Industrial Estate, Llantwit Fardre, near Pontypridd to 82 vehicles. The firm's depot at Leeway Industrial Estate, Newport, which was previously used for the operation of school contracts, has been closed.