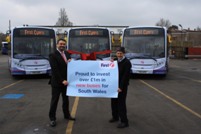 First has invested over £1m in eight new ADl Enviro 200s for Swansea.
The buses, which entered service on Monday, are being used on routes 20, 20A and 21A, operating between the city centre and Sketty, Killay, Dunvant and Three Crosses. They feature leather seats and Cummins Euro 5 engines.
Simon Cursio, General Manager for First Cymru, said: "This is an exciting development for Swansea. It represents over £1m worth of investment in the city, further underlining our commitment to growing our business in this region. Each of the new buses has cost us in the region of £130,000, but this is worth every penny if we can use it to help grow patronage.
"We hope people will get on board to try these new buses out."
In keeping with the move to refresh the existing the fleet, the new buses being used in Swansea feature the new First Cymru livery. All other buses in First's local fleet are currently being repainted to match this look.