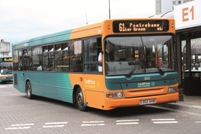 Swansea-based 2Travel brings High Court action, claiming damages for lost profits and the failure of its business
Cardiff Bus will face a court hearing in March which could determine whether the municipally-owned operator survives.
The bus company is facing a £50m compensation claim from 2Travel, a rival firm which went into liquidation. It is bringing a High Court action against Cardiff Bus claiming damages for lost profits and the failure of the business.
The Office of Fair Trading (OFT) ruled in 2008 that the city's bus operator abused its dominant market position to put the smaller independent firm out of business.
Swansea-based operator 2Travel started a rival half-hourly Monday to Friday service on Cardiff's busiest routes in April 2004, but it folded in May 2005 after struggling to compete when Cardiff Bus launched cut-price fares on the same routes. After 2Travel folded, Cardiff Bus then dropped the loss-making service.
The OFT ruled Cardiff Bus had engaged in predatory conduct by running a service with revenues so far below costs, 2Travel had no chance to compete.
In the 2009 OFT judgment, Cardiff Bus escaped a fine because the regulator judged its conduct to be 'of minor significance', since the operator's annual turnover from the infringment on competition rules did not exceed £50m.
Three separate claims have also been brought by 2Travel's former company secretary, David Francis, former CEO David Fowles and non-executive director Nigel Short, who were shareholders.
Overall, £7m is being sought in lost profits, £15m for the loss of the business as a going concern and £15m for being unable to grow the business.
A further £10m is being pursued for the lost commercial opportunity to develop its Swansea depot and another £3m in punitive damages.
The case is due to start at the High Court in Cardiff on March 23.
The OFT judgment said: "In all the circumstances, the OFT concludes the evidence is sufficient to demonstrate Cardiff Bus was reacting to 2Travel's entry by attempting to force the entrant to retreat from the market.
"In the OFT's view, Cardiff Bus' conduct contributed to maintaining and strengthening its dominance and did not constitute 'normal competition on the merits', but was predatory and an abuse of Cardiff Bus' dominant position."