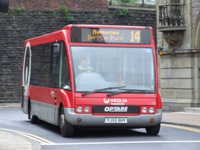 Veolia Transport has completed the exit of its UK operations with the sale of its remaining businesses to former chief executive and chairman John O'Brien.
It is understood the Welsh operation, which now comprises depots at Abercraf and Crossgates, have a future until at least the end July as the Powys County Council contracts are up for re-tender.
Newport depot is still operating with five Optare Solos, it is understood purely, to operate the remaining tendered routes (Pontypool and Monmouth) until replacement contractors take over. According to information at Companies House, Veolia Transport Cymru PLC was re-registered to Veolia Transport Cymru Ltd on November 18. Then, on December 20, the firm changed its name again to Crossgates Coaches Ltd.
In a statement Mr O'Brien said: "Veolia Transport in the UK is now owned by a company controlled by me. The final step was to change the company names to reflect the exit from the Veolia Group. Veolia Transport UK is now Astons Transport Ltd; Veolia Transport England is now Astons Coaches Ltd and Veolia Transport Cymru is now Crossgates Coaches Ltd."
Astons Transport Ltd retains its headquarters at Unit 3, Garrison Street, Bordesley, Birmingham B9 4BN.