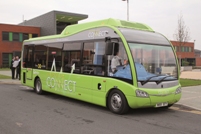 Sunderland Connect's 700 route is now being served by a fleet of new hybrid buses. The Optare Solo SR hybrid vehicles, launched on October 14, run a route through key locations and attractions in Sunderland, including the city centre, university centres and important leisure and visitor sites.
The service is operated by Go North East, whose commercial director Martin Harris told CBW he was excited at the prospect of running the vehicles.
He explained: "It is Go North East's first hybrid operation, and a lot of work has been put into getting to this stage. The vehicles offer a significant benefit in terms of savings on fuel costs, and time will tell if there is potential for viable commercial propagation."
Mr Harris added Go North East is keen to encourage government to continue to help with the cost of hybrid vehicles, so such technology can be made easily accessible and viable.
Bernard Garner, director general of Nexus, said: "Sunderland Connect has proved popular from the word go and is already well-established as the best way to get across and around the city centre.
"With the launch of new hybrid vehicles passengers can also be reassured they are making a greener journey, as well as a quick and convenient one."
Nexus was awarded Government funds to help fund the service, and Sunderland City Council and Sunderland University are working in partnership with the PTE.
A launch ceremony was held at Sunderland University's Travel Hub last week.