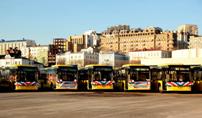 MAN Truck & Bus gains firm grasp on the Russian public transport market
RUSSIA In the course of modernising Vladivostok's local public transport service, the Russian city's Administrative Council has ordered 50 MAN city buses. The first vehicles were delivered to the municipal transport company VPOPAT-1 in December 2011 and are already operating on the city's regularservice routes. At the ceremonial handover in Vladivostok city centre, guests – including Russia's Vice Premier Igor Schuvalov, Sergej Darkin, Governor of Primurye and Mayor Igor Puschkarjov – were able to appreciate the benefits of the new buses for themselves during an hour's test drive.
The yellow-painted MAN Lion's City lowfloor city buses are 12m long and comply with the highest safety, environmental and efficiency standards. They are powered by 280bhp MAN common-rail diesel engines meeting Euro 4 exhaust emission requirements. A powerful air-conditioning system maintains a pleasant temperature on board.
The Vladivostok buses are configured to accommodate up to one hundred passengers, and cater for people with mobility difficulties through the inclusion of wheelchair boarding ramps. They are also equipped with satellite navigation systems, free WiFi and automatic next-stop announcement. Drivers and technicians were given comprehensive training on the buses, which can be serviced as required in the newly-opened service centre located in the Vladivostok bus depot itself.
Russia is an important sales market in the framework of the MAN Truck & Bus international growth strategy. The decision of Vladivostok's Administrative Council to acquire MAN Lion's City vehicles is a further significant step for MAN Truck & Bus on its way to establishing itself on the Russian market as a manufacturer of commercial vehicles.