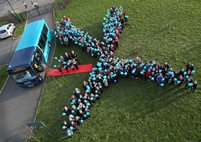 To celebrate the first bus links to Leeds City Centre from the Chequerfield estate in West Yorkshire, Arriva Yorkshire launched a competition with local school, De Lacy Primary School, to design a bus exterior for the improved 410/411 service, which came into effect from February 22.
Nigel Featham, Regional Managing Director for Arriva Yorkshire, said: "It's great to give something back to the local community.
"We thought it would be a great idea for the local children to design one of our buses on this new route, seeing as the idea to provide a direct route to Leeds came from the people of the Chequerfield estate.
"The X-Factor bus competition really created a lot of excitement at the school, and we had a hard job whittling it down from the 300 entries to just the final five. The five finalists were announced on Tuesday in true X-Factor style, where we presented each child with four family tickets to watch the X-Factor live in Leeds."
Referring to overall changes, Nigel Featham added, "We invest a lot of time and effort talking to customers. One thing that came out was the need for cost effective links to Leeds from the Chequerfield estate."
The five finalists will have their designs put to the public vote and the winner will then have their design emblazoned on one of the buses on the new 410/411 route.
Voting on the designs closes on the February 29.