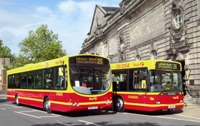 First Bus has introduced a gold standard service for its 25 and 26/26A routes in Stoke-on-Trent and Newcastle-under-Lyme, as part of a scheme to improve customer service.
The number 25 service runs from Hanley to Keele via Stoke and Newcastle, and the number 26 runs from Hanley to Newcastle via Dividy Road in Bentilee, Brookwood Drive in Meir, Longton and Stoke.
An interesting development is that First has revived the 1990s livery of its former PMT subsidiary to the launch improved levels of service. One PMT-liveried bus will be used on each service. The routes will have dedicated drivers, extra daytime cleaning of the buses and improved information at stops. A new 'two-trip' fare will also allow passengers to complete two journeys on either the 25 or 26 with the option to transfer onto others in the network to complete journeys in any one day. Tickets cost £2.50 for children and £3.50 for adults.
"We want to encourage as many people as possible to use our services, so we are introducing a new 'gold service' whereby we hope to provide the very best bus service possible," said general manager of First in the Potteries, Peter Walch.
"We also want to build a better relationship with our customers so we're employing dedicated drivers to the routes and we're taking steps to further improve the standard of cleanliness on our vehicles as we know how important this is to our customers.
Walch concluded: "Finally, we're implementing a 'Gold Service Customer Charter' – which outlines our commitment to run reliable, punctual and clean services with friendly, customer focused, drivers."