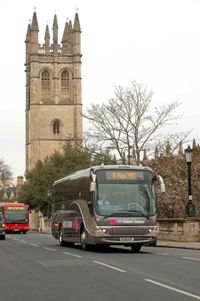 Oxford Bus Company has unveiled a new look for the X90 London coach service.
The coaches have improved legroom due to a seat reduction from 48 to 44, are fully accessible for wheelchair users and are also fitted with Wi-Fi and charging points.
Louisa Weeks, operations director of Oxford Bus Company, said: "We believe, along with our airline service to Gatwick and Heathrow, the X90 has the most legroom available on any scheduled coach service in Britain. It offers the most comfortable way of travelling by public transport between Oxford and London."
The X90 links Oxford City Centre, Headington and Thornhill with London. Louisa explained: "We run directly between Thornhill and Hillingdon in London and our stop at Baker Street provides a popular connection with the Underground network. The X90 then stops again at Marble Arch and at Victoria rail and coach stations.
"Many people still refer to our London service by its route number, the X90, and so we decided to adopt it as the main theme of the revamp. The new look colours of metallic silver and grey really make the coaches look distinctive."
The changes are part of a £4.6m project to upgrade the operator's coach fleet. The 19 vehicles were used on the airline service until the start of the year when a new fleet of coaches was introduced on the airline services to Heathrow and Gatwick. They have been given a six figure facelift and revamp to accompany the new livery.
Journeys can be booked in advance through the Oxford Bus website.
For more information visit www.x90London.co.uk