Enterprise Travel of Darlington has received CoachMarque accreditation, joining 54 other members in the scheme.
Enterprise, a member of the European Travel Group of companies, supplies home to school transport, as well as extensive operations across Europe.
Commenting at the presentation of the award Enterprise's Managing Director, Kristian Collin said: "Operating since 2015, Enterprise continues to place absolute importance on providing first-class customer service.
And as a result of receiving high levels of passenger satisfaction, coupled with many customer recommendations, we have been able to grow the business from five to 18 vehicles."
Kristian continued: "Rapid growth can sometimes raise concerns about quality, and CoachMarque is therefore an effective and reliable way to demonstrate to stakeholders that the business not only continues to maintain high standards, but has raised them to a level recognised as the industry's benchmark.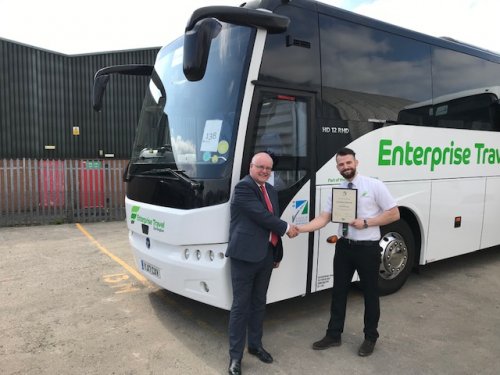 "CoachMarque also provides customers with an assurance that the internal operation, which if often unnoticed, is being approached in a competent manner too.
Gaining the CoachMarque accreditation on an accelerated timeline was only made possible by Kevin Keelan who joined Enterprise as Transport Manager in 2017.
"Moving forward, our main focus is on growing the touring side of the business. We are confident that CoachMarque will facilitate discussions with new customers who are looking for new and credible partners."
With interest in the scheme greater than ever before, CPT's Coaching Manager, Andy Warrender, sees the increasingly competitive landscape in the industry as giving operators the impetus to do something which makes them stand out in the eyes of the customer.
"CoachMarque has long represented something different to customers", commented Andy.
"It provides solid evidence that the operator they are considering has met rigorous standards not only with their fleet, but with every aspect of their contact with the customer, and in the case of tour operators, their customers as well.
The industry faces many challenges, and demonstrating to clients that your business has gone that extra mile is a real statement of commitment to customer satisfaction."