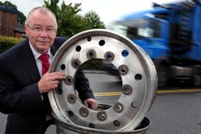 Wheel safety issue was raised by MEP Brian Simpson after MWSD said non-circumferential wheels can half the wheel's life expectancy
The European Parliament (EP) has voted to support the testing of commercial vehicle wheels fitted onto non-standard axles as part of the EU Roadworthiness Package, which includes endorsement from the DfT.
The safety issue, which has been led by Motor Wheel Service Distribution (MWSD) and included the company's MD, John Ellis presenting expert testimony to the Committee on Transport and Tourism, was raised as an amendment by Transport Committee Chairman and North West MEP, Brian Simpson following the initial report in March.
The legislative text states 'wheels and hubs are critical safety components and should be totally compatible' and it covers both roadside technical inspections and periodic vehicle testing.
MWSD has long argued noncircumferential hubs, which give only partial contact between axle and wheel, are causing untested load stresses which cause cracks and half life expectancy of the wheel.
To improve safety, Ellis called for wheels to be identified as safety critical, closer co-operation with OEMs, with all wheels and axles to be tested to European Tyre and Rim Technical Organisation standards and all wheels to periodically undergo a 10-point check plan.
The next stage is for negotiations to start between the Council, which has not supported the amendment – and the EP to finalise the legislative text. Both are co-legislators, meaning they have equal power and will work together to find an agreement. Further details are due towards the end of the year.
Ellis said: "This is hugely welcome news and a significant step forwards in promoting wheel safety and the issues being created by non-circumferential hubs. We were also very pleased to see the DfT support the amendment. We have been working closely with the department since the outset of the campaign in early 2010.
"There is still plenty of work to be done and we will continue to work closely with Brian Simpson, the DfT, Paul Goggins (Labour MP for Wythenshawe & Sale East) and the North West Automotive Alliance, all of whom we thank for their continuing support, in getting tighter regulations ratified."
Simpson added: "This subject is very close to my heart and I will continue to do all I possibly can to reach an agreement with the Council and see the amendment in law. This change is not designed to place extra financial burden on the CV sector but to create far safer practices for what is a safety critical item.
"The UK Government sits in Council with its 27 counterparts and for this amendment to make it into the final legislative act we need support from Council."