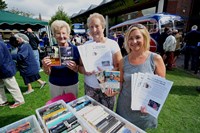 EYMS' Big Bus Day at Hull's Streetlife Museum on Saturday, August 30 beat the previous year's record attendance of 5,600 with an estimated total this year of 7,200.
Over £4,000 was raised for the NSPCC through donations and sales of photographs, memorabilia and programmes. The Hull People's Memorial and The Royal British Legion also collected money through their charity stalls.
The combination of excellent weather and exposure of EYMS on the Channel 5 series 'On The Yorkshire Buses' aided towards the event being a huge success.
Peter Shipp, EYMS' Chairman, expressed his delight with the impressive turnout, some visitors travelling from as far away as Cornwall and Tyne and Wear, stating that as well as the expected enthusiasts there were families coming to enjoy the day out. He said: "Huge thanks to all the EYMS staff and others who gave their services free on the day and to staff at the museum who entered into the spirit of things."
The bus exhibits featured EYMS' Plaxton President-bodied branded as thee Volvo World War 1 Centenary 'Poppy Bus' on display for the first time, as well as the firm's newest heritage acquisition – a 1961 Bristol Lodekka painted primrose and Riviera blue to imitate the 'Yellow Perils' of the 1950s and 1960s. Other exhibits of note were ADL's Enviro 400 Euro 6 double-deck demonstrator, a 1957 Burlinghm Seagull coach now privately preserved but previously owned by Whittles of Kidderminster, a heritage coach from Hornsby's of Scunthorpe and a preserved Routemaster from Leeds.
The free city tours attracted queues much larger than usual and EYMS' 1956 'Beverley Bar' indigo and primrose double-decker, previously only seen on static display, complemented the open-top buses.
Peter Shipp added: "Many people wanted to chat to and photograph the 'stars' of the Channel 5 series. They commented on the wonderful atmosphere and it was great to meet so many passengers and enthusiasts."