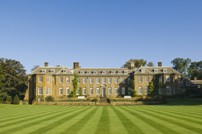 Find out how millionaires in the 1930s partied and take a tour of a Grade II-listed garden
Upton House, near Banbury in Warwickshire, lets visitors experience a weekend house party of a 1930s millionaire.
While surrounded by its internationally important art and porcelain collections, there is a chance to learn about family life, feel the party atmosphere and get close to art works by Hogarth, Stubbs and Bosch.
The house was built in the late 17th century on the site of the former hamlet of Upton.
The garden's sweeping lawn gives way to a series of terraces and herbaceous borders leading to a kitchen garden, tranquil water garden and spring bulb displays. A special interest tour of the gardens can be arranged for £50 per group. The tour takes in the highlights and historical development of the Grade II-listed gardens. Colour is abundant throughout the year, although groups wishing to view the National Collection of asters in bloom should visit in late September/early October.
Group admission is £8.30 per person or £5 in winter. Admission to the gardens only is £5 or £3.75 in winter.
Parking is available for two coaches at a time, 300 yards from the entrance and there is a drop-off point outside. On-board coach welcomes are available.
Catering is provided at the Pavilion Restaurant. Open-air seating and set menus are available. To help visitor flow, groups are asked to stagger entry to the restaurant. Out of hours catering as part of a private tour can be booked.
Along with the gardens tour, there are two tours of Upton House, giving a brief overview of the property and some of the treasures within. The first tour gives an insight into the history of the house while the second tour focuses on four particular paintings in the collection and their background.
The house is open between 1300 and 1700hrs.
For more information email [email protected] or ring 01295 670266.