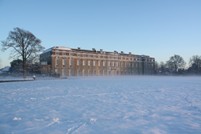 The house is home to an extensive collection of paintings and is set in a 700-acre park
Petworth House is one of Britain's finest stately homes. It is set within a beautiful deer park in the heart of the South Downs National Park.
The 17th-century mansion opens between March 10 and November 7, 1100 – 1700hrs, on Monday to Wednesday and weekends.
The shop, restaurant and grounds are open between February 11 and December 23. Group admission is £10 per person.
Visitors can immerse themselves in the grandeur of the house containing a world-famous collection of paintings, with many works by Van Dyke, Reynolds and Blake, together with ancient and neo-classical sculpture and intricate carvings by Grinling Gibbons.
The house stands in a 700- acre landscaped park, known as Petworth Park, which was designed by 'Capability' Brown.
The estate is located in Petworth, West Sussex, between Midhurst and Horsham. There is parking for three coaches, 600 yards from the entrance. The drop-off point is at Church Lodge entrance.
There are a number of special interest tours available. A Family Collection lets visitors discover the secrets of the mansion's collections, while the new Connoisseur's Tour guides enthusiasts through the house's extensive British Art collection. There is also a chance to be led round the picturesque grounds by an expert gardener. Introductory talks are available for groups, and out of hours tours can be arranged.
As well as the weekly tours, a number of special events are planned for 2012. Included is What's Cooking?, where costumed interpreters help discover how a historic kitchen prepares food fit for an earls table. This will take place daily between March 31 and September 30.
A trip can be combined with a visit to nearby attractions Arundale Castle, Fishbourne Roman Palace or Goodwood House.
Email [email protected] or ring 01798 342207 for more information.