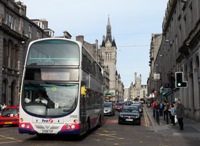 Following a three week consultation with customers, politicians and other stakeholders, First Aberdeen revealed it has submitted final plans to the Traffic Commissioner detailing changes to its bus network.
The revised network will begin September 16 and includes;
Increasing the number of buses running on Service 3 so they run every 10 minutes instead of every 12.
Service 23 will run every ten minutes, from every 12.
Service 13 will run every 20 minutes, from every 30.
Service 19 will run every 12 minutes, from every 15.
Standardising services 1 and 2, providing more journeys for students and Garthdee residents and increasing the number of buses stopping at Robert Gordon University.
Almost doubling the number of buses stopping at Aberdeen Royal Hospital bus port.
Extending the Park and Ride to Dubford.
Introducing new evening and Sunday services linking Charleston with the city centre.
First also confirmed some services will be reduced or removed as follows:
The Sunday Dubford service will be removed and regular services to Aberdeen Royal Hospital from Dubford will run every 60 minutes, from 30.
The evening services in Craigiebuckler, Airyhall and Balnagask and services 25 and 6 will be removed.
Following the consultation period, the company announced the following additions: n Service 4 will now operate via Cornhill Road to serve Aberdeen Maternity Unit n Airyhall will receive a Sunday service with an extension of Service 15 from Craigiebuckler. n Service 11 Northfield to city centre will operate along the existing Service 16 route. n Service 11 in Kingswells will now operate via Fairley Road in both directions.
Duncan Cameron, Operations Director at First Aberdeen said: "The consultation period was the most comprehensive undertaken in recent years. We wanted to be open and transparent about our plans, explain the challenges we face as a commercial operator, and ultimately put in place a network that meets the needs of the majority of our customers.
"I'd like to thank our customers for getting in touch with us. We've reviewed all their comments, listened closely to their concerns and I'm pleased we've been able to revise some of our plans to take account of the feedback. We will be responding to stakeholders to explain the reasons behind the changes."