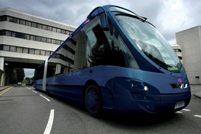 Future phases of the project will look at bus priority schemes for the rapid transit style service
The new Leeds/Bradford Streetcar livery has been unveiled. The vehicle will be the centerpiece of a rapid transit style service between Leeds and Bradford, to be implemented at the end of October this year. First is working in partnership with West Yorkshire ITA (WYITA), Metro, Leeds City Council and Bradford Council, to establish the new transport project.
The service aims to help ease car congestion on roads between Leeds and Bradford, after they were recently labelled the most congested in the UK and the seventh most congested in Europe as part of a major study by TomTom.
The new livery is supplemented by branding which First said signifies the economic and social importance of the two West Yorkshire cities. On-board facilities will include free WiFi and leather seating.
Other benefits will include a seven-minute frequency during the Monday to Saturday daytime period and enhanced customer service training for staff will also take place to ensure the highest standards of customer service are met.
The local authorities are also supporting the project and at a recent West Yorkshire ITA meeting an initial £74,000 was earmarked for improvements to street infrastructure on the route. Future phases of the project will consider the feasibility of new bus priority schemes to speed up and reduce the variability of journey times on the corridor. First said it has committed to reinvest any surplus resources as a result of these developments into further frequency and network enhancements.
Dave Alexander, Regional Managing Director for First in the North of England, said: "We are excited to see the first images of the Streetcar and its striking royal blue livery, which will certainly catch the eye of existing and new bus customers.
"On the run up to the launch in three months time, we will continue to keep our customers up to date with key information about this strategically important project which will bring significant economic and social benefits to Leeds and Bradford."
Follow First West Yorkshire on its new Twitter feed at @FirstWYorks_bus