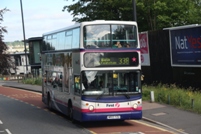 First shares suffer after poor financial results and rights issues, while confidence grows in National Express after Elliott Advisors sells stake
Shares in FirstGroup and National Express have hit the headlines in the past week – in both good and perhaps not so good news.
From May 16 to June 14, FirstGroup's share price has dropped from 222.8p to 91.35p as the firm attempts to complete its key £615m rights issue.
Approximately 723m new shares in FirstGroup were admitted to trading to the London Stock Exchange, in an attempt to cut its £2bn debt-load and keep its investment grade rating, The Telegraph reported. The decline was attributed to the controversial loss of the West Coast rail franchise, a sharp drop in profit and the value of the wider market falling, with a recent drop accounting for the fact the group is trading ex-rights.
However, Investec analyst John Lawson argued there may now be a "good entry point" into the company's stock, as he upgraded his recommendation on FirstGroup to 'add' from 'hold'.
He said: "FirstGroup will shortly put its balance sheet issue to bed – for now – and, while the final outcome of the rights issue will not be known for another week, investors should at long last begin to focus on the recovery story."
With the results of the rights issue due on Wednesday (June 26), next week is set to be key for whether investors or banks will pick up the stock – according to the Financial Times.
In a separate development, Elliott Advisors, an 'aggressive' US-based hedge fund, is selling its remaining 9.9% stake in National Express, ending a relationship which two years ago threatened to unseat the group's board. The move comes just over three months after Elliott halved its holding in the operator after a failed attempt to insert three of its advisors to the group board (CBW1078). At the time, Elliott gave an undertaking not to sell any more NX Shares for 90 days.
The fund manager tasked UBS with selling the shares, which were worth around £104m at the closing price of 206.2p on June 11. Since that date, NX's share price has jumped to 217.1p.