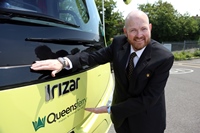 Gillingham-based The Kings Ferry is changing its name to 'The Queens Ferry' for one week in a distinctive tribute in honour of Her Majesty The Queen's landmark 90th birthday on Sunday, June 12.
This is the first time in the operator's 48-year history that a re-brand has happened. In the run up to the special occasion, all 40 of the company's commuter coaches will bear the new name on their destination blinds. The company's website will also be changed.
In further celebration, the company has unveiled a specially-liveried new coach. Driver Simon Martin said: "We're really proud to do our bit in marking Her Majesty the Queen's special birthday. I'm hoping the tribute will raise some smiles on the morning commute as the whole country gets in gear to celebrate".
The Queens Ferry Managing Director Ian Fraser added: "All our drivers and staff join the nation in expressing our very warmest wishes for the Queen's 90th birthday. June 12 is a monumental milestone in Her Majesty's reign and we are thrilled to play our part in marking it".
Speaking to CBW, a National Express UK Coach spokesperson said that the new coach will keep the special livery for a little while, but there are no timescales on it as yet.