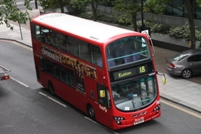 First has announced that from June 22, 11 routes at its Dagenham Depot will be transferred to Go- Ahead and thence operated from its Rainham Depot.
Routes affected are 193, 368, 498 plus school routes 608, 646, 648, 652, 656, 667, 679 and 686. Relevant single-deck buses will transfer from First to Go-Ahead but Go-Ahead would use their own buses on the double-deck contracts. First retain four routes (165, 179, 252 and 365) at Dagenham although these will transfer to Stagecoach (who have their own new buses on order) in September and October after which Dagenham depot is expected to close.
A FirstGroup spokesperson told CBW: "Recently we lost the contracts to operate a number of routes from Dagenham depot which end in September/October 2013. As a result we have been reviewing the viability of future operations from the depot and decided to close the depot in October.
"In the interim, we signed an agreement with Go-Ahead Group last month to transfer the remaining 11 TfL contracts to them with effect from June 22, including the transfer of staff, subject to TfL approval.
"While we have been a key operator in London for many years, our strategy is to focus on those areas of the country which offer the greatest potential; going forward this will be on the deregulated market outside of the capital."