First West of England has invested in 77 new ADL Enviro400 CBG bio-methane 'deckers for Bristol.
The buses are built on a Scania N280UD chassis, and powered by the company's 9.3-litre OC09 101 Euro VI engine
Set to arrive in the coming months, the vehicles will operate on routes across the city, delivering an over 80% reduction in greenhouse gases and a 95% reduction in NOx compared to the buses they replace.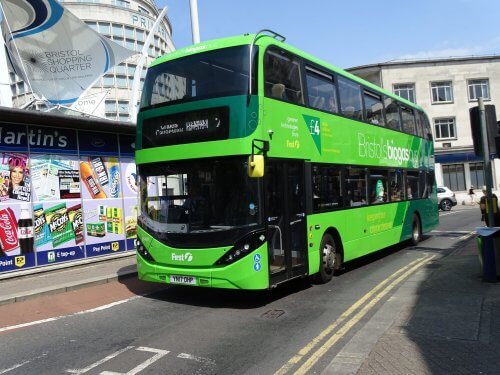 They also have a 250-mile range, minimising vehicle downtime.
The vehicles will help First prepare for the upcoming Clean Air Zone (CAZ) in Bristol, complementing upgrades to the existing fleet.
The arrival of the new Enviro400 CBGs will also signal the departure of older, more polluting buses; it's not the first time gas buses have come to Bristol, as Bristol Community Transport previously bought 21 which are currently operating on the metrobus m1 route. Free WiFi and USB charging points will be available for all passengers onboard.
The announcement was made on Clean Air Day – 20 June – and coincided with the operator giving away over 350 free bus tickets across the West of England division to encourage take up of the bus.
The free adult FirstDay tickets were sent via email to 357 customers across the West of England area to promote the values of greener bus travel and encourage the customer to gift the free ticket to a friend – the idea being that the friend is a non-bus user.
James Freeman, Managing Director of First West of England, said: "These 77 new buses will not only be 95% less polluting, but I hope the improved quality of service will also encourage more people to leave their cars at home and jump on the bus.
"To help people make that switch, we're giving away more than 350 free tickets for our existing customers to share with their friends to mark Clean Air Day so they can see that bus travel is a key part of making every day, a clean air day in Bristol."
Read more news here: cbwmagazine.com/category/news