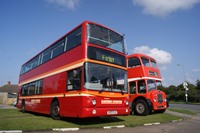 First Eastern Counties has unveiled a heritage liveried Alexander ALX400 in Ipswich. The bus boasts an original 1980s livery and is now running on service around the town.
The vehicle was launched alongside an original liveried Bristol FS Lodekka Formerly a training bus, the Lodekka was built in Lowestoft but spent most of its life on service in Ipswich before being withdrawn in 1976. Ipswich Transport Museum bought it in 1993 and restored it to mid-1970s condition complete with authentic adverts.
First Eastern Counties' Business Manager Chris Speed and General Manager Hugo Forster came up with the idea to commemorate First Eastern Countries' former liveries. Workshop Manager Barry Spurling spoke to members of staff about their favourite liveries and they voted for the original 1987 design.
Chris Speed said: "It's important to remember the history of our local community. We have already received so many positive comments about the bus and plenty of people are stopping to take photographs. We are really pleased with it.
"Initially we struggled with the paint codes but then we found an old vinyl and matched the colours."
The ALX 400 bus was painted at a First Bus workshop in Rotherham and fitted with new leather seats and WiFi. The bus runs on regular service around the town, mainly serving route 66.