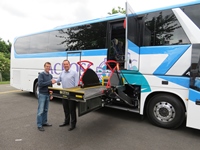 Unique stretcher lift installed in 'Jumbulance' service in UK and France
A Mobility Networks company PLS has successfully engineered and installed a unique stretcher lift to a medical coach built by King Long.
PLS designs, manufactures and maintains powered lifts and ramps for accessible buses, coaches, ambulances and specialist vehicles. PLS was commissioned by King Long to install a specialist accessible lift to a flat floor, 12.2m XMQ6129 coach. This Across 'Jumbulance' now operates in the UK and France, providing transport for severely disabled passengers and medical personnel.
The completed conversion of the King Long coach to a fully accessible, specialist care vehicle took 12 months. The coach was fitted with floor rails for wheelchair tie-downs and removable seating so that several wheelchairs could be accommodated along with four stretcher beds.
PLS designed and fitted a stainless steel, fully automatic stretcher lift that is housed in the base of the main locker. This design brought together lifting principles and components from several, individual PLS Access designs. The result was a platform with a 500kg lifting capacity that smoothly rises from ground level up to a raised side door entrance. The lift requires no manual operation and incorporates all the safety features associated with PLS products – from automatic 'roll-off stops' and anti-slip surfaces to a flat bridging plate for seamless transfers. The 2100x925mm platform provides enough space and lifting capacity for a stretcher-bound passenger along with a carer who can operate the lift via a roaming controller.
Adam Beck, PLS Managing Director commented: "The PLS team and I are proud to have produced such a pioneering solution for King Long. In the past 20 years I would regard this as the most complex, yet rewarding installation PLS has ever achieved. Throughout the build we worked closely with King Long and Blackpool Design Consultants (BDC) to ensure the highest quality was delivered in terms of lift installation. This in turn ensures maximum safety and peace of mind for operators and passengers."
Ray McNally, King Long Director said: "It certainly was a challenging adventure, but King Long was keen and enthusiastic to accept this specialist project. By coordinating and working closely with both PLS and BDC, we were able to offer a complete one stop solution with a combination of practicality and uncompromising luxury."