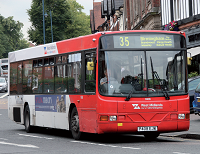 Group sees revenue grow across core UK bus and coach networks
National Express Group (NX) has announced its half yearly report ended June 30 with an overall 23% operating profit rise, including both its UK bus and coach divisions delivering significant revenue growth.
NX group revenue grew by 6%, with normalised operating profit rising by 23% and up by almost £20m before taxation, which it said were due to green credentials and low cost fares attracting customers to its North American and UK coach operations in tough economic conditions.
NX said its UK Bus division delivered 6% commercial revenue growth in the core West Midlands Bus business in the first half of the year. Overall revenue for UK Bus grew by 4%, despite a 2% reduction in concession funding, with the margin increased to 11.6% (up from 8.6% in 2010).
UK Bus revenue was £131.6m (2010: £127.1m), normalised operating profit improved by 39% to £15.2m (2010: £10.9m) due to cost saving plans implemented over the last 12 months, including the closure of its Lea Hall depot. NX services have seen decreased demand across both the West Midlands and Dundee.
During the first half of 2011, the UK Coach division saw growth in its core network with a revenue increase of 3% to £122.3m (2010: £118.2m), operating profit up £11.7m (2010: £10.3m), with an operating margin increase of 9.6% (2009: 8.7%). Each of the brand's segments – airports, regional, long haul and short haul – saw revenue growth. Additional airport routes were popular, although Stansted was weaker on reduced low cost airline traffic.
The international Eurolines business also saw sustained growth and, on its Paris and Amsterdam routes, extra capacity in the peak season saw respective growth rates of 44% and 24% in June.
Eurolines has also secured a contract with Eurotunnel to bring an estimated 18,000 passengers to the London Olympics next year.
There was a period of weaker revenue for the division's contract businesses. Completion of the Gatwick Monorail upgrade saw an end to the Airlinks inter-terminal replacement coach contract and reduced planned engineering work impacted the NX's Rail Replacement business. High value contract work at The Kings Ferry has also been under pressure, although NX's Events business, such as Glastonbury, continued to grow.
NX also said plans are well developed to mitigate the withdrawal of the £15m annual government subsidy for half price senior citizen coach travel.
NX's Spanish division, Alsa, saw total revenue in sterling terms increased to £267.3m (2010: £252.4m) with normalised operating profit at £38.6m (2010: £33.0m). Alsa's urban routes increased 11% in revenue.
For NX's North American operations, total revenue increased in the first half of the year to £264.7m (2010: £253.7m), with normalised operating profit increased to £34.6m (2010: £31.0m) and operating margin up 13.1% (2010: 12.2%).
NX said it hopes a range of measures including reduction in staff numbers, will help secure the $40m target of annual cost savings announced last year and provides the division with a robust platform for future development.
The division has won contracts for over 1,000 new buses to date, including 600 across nine conversion contracts and an improved contract retention rate of 98%, meaning over 650 net new buses will be added in the new school year.
Commenting on the group results, NX chief executive Dean Finch said: "We have had a strong first half, and driven margin enhancement and organic growth across our businesses. Operating profit has grown by 23% and we have reinstated the interim dividend."
He added: "We continue to invest in growth and are well placed to deliver further operational improvements.
"As we complete our margin recovery programme, we are focused on organic growth, new contract wins, and carefully targeted opportunities in attractive markets."