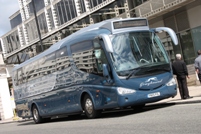 "Successful" Cardiff – Swansea route is sole remaining route, but expansion may be in the offing
FirstGroup is to withdraw its Greyhound coach service from London to the South Coast of England. The news comes after the frequency was cut in September.
First said four Greyhound UK vehicles currently provide up to four return services daily from London to Portsmouth (and Fareham) and from London to Southampton.
Greyhound UK launched services linking London with Portsmouth and Southampton in September 2009 in a blaze of publicity using Irizar PB-bodied Scanias previously used on National Express contracts but refurbished internally.
Marc Reddy, Regional Commercial & Business Growth Director for First Bus in the South West and Wales, said: "We'll be ending our Greyhound UK services between London and the Solent on November 17. Unfortunately, these services are not seeing sufficient passenger numbers and therefore we've reached the difficult decision to withdraw the buses from the routes.
"I would like to thank our Solent customers for travelling with Greyhound UK and can assure them they will continue to enjoy the same quality service right up until we stop operating.
"Greyhound UK will continue to run its successful and popular services between Cardiff and Swansea and will look at any other new opportunities as they arise."
A well-placed source has told CBW three Greyhound coaches are due to be transferred from Southampton to First Cymru, with three unknown 49-seater coaches going the other way to the Southampton-based school bus unit for private hires. However, a First spokesman said: "The vehicles will be redeployed within the business, but no final decisions have been taken yet as to where."
With the ex-Silver Choice Glasgow to London overnight service having been withdrawn on September 29 (CBW1049), after November 17, the sole remaining Greyhound UK service will be the Swansea-Cardiff route. This was of course rebranded as a Greyhound service in September 2010 from the long-established 'Shuttle 100'. Marc recently told CBW: "Greyhound in South Wales is performing well and we continue to actively grow the market where possible."
Industry rumours are rife about the possible expansion of Greyhound but First said it was unable to comment at this stage.