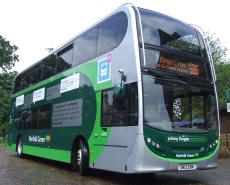 King's Lynn-based Norfolk Green has launched two new Enviro400 buses, the first of the operator's brand new fleet of double deckers – and the first ever brand new double deckers to enter the award-winning fleet.
The launch also celebrated the start of a makeover for the company as the buses feature a brand new livery.
The two ADL Enviro400s, the initial delivery of a four-vehicle £750,000 order, are operating on Norfolk Green's King's Lynn to Hunstanton and King's Lynn to Spalding routes.
The 79-seaters include underseat 'mood lighting' and wood-effect laminate flooring. Both vehicles are painted in the operators' brand new silver and two-tone green livery. One bus features postcardeffect murals of Sandringham and Hunstanton while the other is decorated with tweets (comments from Twitter) from customers featuring positive messages about the company.
Norfolk Green's 10/11 routes to Hunstanton and 505 to Spalding now run every 20 minutes during the day on weekdays and every half hour on Sundays, to cater for significant recent passenger growth on the two key services. The new buses will be joined by two more identical vehicles in Spring 2013.
"These best-in-class modern vehicles will help us raise the bar in terms of passenger comfort and safety," said Norfolk Green Managing Director Ben Colson. "We have already made big strides in terms of improving our services to the public and I look forward to introducing even more new buses in the years ahead. Norfolk Green is determined to play its part in the provision of an integrated transport service for the rural and urban communities we serve."