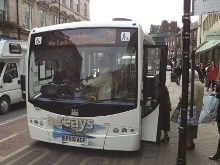 Reays is expanding into the Lake District, South Cumbria and Penrith. The family-run firm, which was crowned Top Independent Operator at the UK Bus Awards 2011, is to open a new depot in Penrith after winning contracts from Cumbria County Council to run two additional bus routes linking the town with Greystoke and Kendal.
From September 1, Wigtonbased Reays will take over the operation of routes 105 (Penrith- Greystoke-Penrith shuttle) and 106 (Penrith with Kendal via Shap and Teebay) routes from Stagecoach, both of which are for four years' duration. Reays has also won the contracts for Queen Elizabeth Grammar School in Penrith.
The firm's new Penrith depot will be on the Gilwilly Industrial Estate. The firm already has depots in Carlisle, Egremont and Wigton.
Reays started operating bus routes in the Lake District for the first time last month when it launched its own Lakes Hopper service between Keswick and Bowness.
MD Chris Reay said: "We are delighted to have won these new contracts from Cumbria County Council. The 105 and 106 both form vital links for town and rural communities and I believe passengers will notice the improved quality of our modern vehicles and the service we deliver.
"We're also thrilled with the initial success of our Lakes Hopper. The latest expansion means we'll be running about 20 vehicles from our Penrith depot. There will be 20 more jobs for full and part-time PCV drivers and additional staff, taking our total workforce past 150 for the first time in our 30-year history."