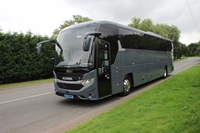 Scania's replacement for Omni Express range attracts considerable interest from operators
Scania has announced the first two customers for its new Interlink coach model range.
"Following on from a successful year of sales of our Omni Express Finesse range, which included a new luxury specification, the first Interlink HD arrived in the UK several weeks ago, which will take the Omni Express' place in the Scania coach line-up," Martin West, General Manager – Retail Sales, Bus & Coach at Scania (Great Britain) Limited, told CBW.
"There has been much interest in getting a look at the new model. We plan to have the first serial orders delivered from early 2017."
The very first orders for the new product have been received from Jim Hughes Coaches of Chester-le-Street and Astons Coaches of Worcester.
Richard Conway from Astons has been a long-standing Scania operator and has placed an order for a 14.1m, 13-litre Interlink HD to the exclusive Finesse specification.
Richard commented: "We have always received outstanding service from Scania, and have successfully operated the Omni Express for a few years now. We ordered the Interlink after seeing photographs of the product and hearing about the enhancements that have been made to the product. Having now seen the first right-hand drive in the flesh, I am extremely impressed with the specification, styling and quality of the build of the new Interlink."
JH Coaches of Birtley, Tyne & Wear has also ordered the tri-axle 14.1m version to Finesse standard, and has further enhanced the specification to include a distinctive gold livery, Bi-Xenon headlights, satellite navigation and bespoke trim with side displacement seating.
Ian Shipley from JH Coaches said: "Having had previous experience of Scania coaches and the aftersales network I have no doubt that the Interlink Finesse will be an excellent choice for JH coaches. I have known the Scania team for a lot of years, and am looking forward to working with them and introducing this superb new vehicle into our ever growing fleet to give our passengers the very latest technology and specification when travelling with us."
Looking to the future, Martin enthused: "Further orders have been taken for the new product for 2017 delivery, of which more details will be released at a later date.
"Our press test of the Interlink HD Finesse 12.8m two-axle version has taken place and you will be able to read more next week's issue, where there will be more information given on the available range of lengths and configurations."