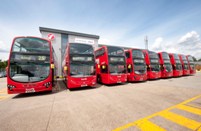 CEO also waives bonus for second year running as firm attempts to tackle £2bn debt burden
FirstGroup has revealed it has raised almost £640m following a discounted share placing of 723 million shares.
Some 633 million shares, or 88% of those on offer, were sold to institutional investors at 85p, with the remaining 89 million bought up for 91p in the market, despite early fears the placing would fall well short.
The cash injection is expected to be used to continue investment in the business, amounting to approximately £1.6bn over the next four years, and to reduce the Group's £2bn debt burden, much of which was incurred by the £1.9bn acquisition of US bus business Laidlaw in 2007. Its debts have risen 7.7% over the past year. First will breach its banking covenants if its debt reaches more than 3.5 times its earnings. Its debt is currently around three times earnings.
First's US school bus division is undergoing a restructure, with the operator confident $100m a year can be cut from its cost burden. This coincides with the transformation of First's UK Bus business, where assets are being sold off and the company seeks to provide local services 'more efficiently'. The firm also insisted it is prepared to bid for more rail deals, despite losing out during last year's West Coast Main Line franchise bidding.
Last month, First said its UK Rail arm saw a 7.4% increase in revenues, bringing total income in the division to £2.795bn.
The value of the Aberdeen-based transport group has continued to fall since late last month, when it unveiled a year-end profits collapse of 86%. Pre-tax earnings had fallen to £37.2m despite a 3% rise in revenues to £6.9bn. First lost 30% of its value in a single day as the firm revealed its three-for-two share issue and a suspension of shareholder dividends.
First has since lost a further third of its remaining value during the course of the last four weeks, with shares remaining at an all-time low ebb, below £1, for much of June.
Tim O'Toole, CEO of FirstGroup, has waived his bonus for the second year running. The bonus would have amounted to 70% of his £1.02m salary for the 2012/13 financial year. O'Toole's salary will also be frozen for 2013/14.