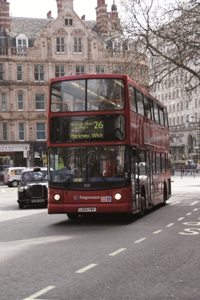 Big Five bus market share of 70% grown by 14% on last year, shows new TAS report
Stagecoach is fast approaching FirstGroup's lead on market share of the UK bus industry, according to a report by the TAS Partnership published last week.
TAS' new analysis of the structure and ownership is based on an analysis of the 2009/10 accounts of over 120 bus companies around the country.
The analysis showed just under 70% of the industry, as measured by turnover, is controlled by the five major groups – FirstGroup, Stagecoach, Arriva, Go-Ahead Group and National Express Group. This figure has risen from 64% in the last report, following Stagecoach's re-entry into the London market with the purchase of East London Bus Group in the autumn of 2010 and means Stagecoach now has a market share of 19.2%, only a fraction behind FirstGroup, with share of 19.6%.
TAS said network cutbacks and falls in revenue mean First's market share is the lowest since 1996, the year after the group was created by the merger of GRT Bus Group and Badgerline in 1995.
"Given recent trends, we would expect Stagecoach to be Britain's largest bus operator when we complete the 2010/11 analysis later this year," said Chris Cheek, the report's editor and non executive director of the TAS Partnership.
The report also shows almost a quarter of the industry – 24.4% – is now overseas owned. The increased overseas stake followed the acquisition of Arriva by the German state railway company, Deutsche Bahn in 2010. This added Arriva's 15.2% of the share to the 9% already held by French operators RATP Dev and Veolia Transdev and the Singaporean group Comfort Delgro.
Other key findings included:
the publicly owned sector's market share fell to a new record low of 5% following further privatisation in Plymouth and Islwyn;
Go-Ahead Group acquisitions in Plymouth and Norwich took their market share to a new high of 11.2%; and
management-ownership of the industry now only accounts for 2% of turnover, compared with a peak of over 24% in the early 1990s.
To purchase a copy of the 85-page report, Bus Industry Structure and Ownership, priced £65 + VAT (electronic copy) or £80 (hard copy), visit www.taspublications.co.uk. The report and analysis also forms part of the online TAS Business Monitor subscription service.