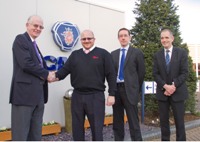 Reliance Travel orders 12 Scania Irizar i6 coaches
Gravesend-based Reliance Travel, a part of the Redwing Group and member of the Addison Lee network, has placed an order for a dozen Scania Irizar i6 coaches. Due for delivery in May 2012 and primarily for use on Reliance Travel's commuter services between Kent and central London, this order represents the company's first purchase of Scania vehicles.
Commenting on the order, Paul Hockley, general manager at Redwing Coaches, said: "In addition to the quality of the Scania Irizar i6 we have been extremely impressed with Scania's pre-sales service and attention to detail. I am very confident everything is now set up for a long and prosperous relationship with Scania."
The 12 new vehicles will all be 12.2m overall length and built to DDA (Disability Discrimination Act) specification. Each will be equipped with 53 seats, a side-mounted Masats wheelchair lift and a rear continental door. As such, this order represents the first time this particular configuration – which maximises both accessibility and luggage space – has been specified by a UK operator. Additional interior equipment includes a refrigerator and a DVD player with front monitor.
Supplied by Scania (Great Britain) Limited, the vehicles will be covered by a full 12-month warranty plus a second year driveline warranty. Scania's Purfleet depot will support the operation day-to-day and provide ongoing parts cover.
In addition to commuter services, the new vehicles will operate on schools contracts, tourist work and airport transfers during the week. At weekends, they will provide extra carrying capacity for the 75-strong Redwing/Reliance Travel fleet.