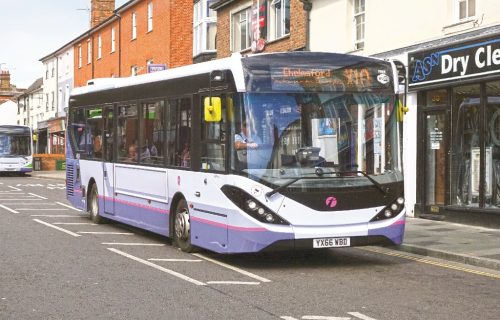 Strong US performance helps First Group turn 2015 first half loss into profit for the same period in 2016, but revenue down at UK Bus
A strong performance from its US operations coupled to a favourable exchange rate have helped First Group turn a statutory £7.5m loss before tax for the half year to September 30 2015 into a £11.1m profit for the same period in 2016.  Group revenue in the first half increased by 5.1% due to translation of its US dollar-based businesses (which generated more than two thirds of adjusted operating profit in the prior year) into sterling at higher rates than the prior period and growth in First Student which operates around 45,000 vehicles and First Transit.  That was offset by reduced subsidy receipts and the remapping of certain routes out of the scope of First Rail's new TransPennie Express (TPE) franchise, together with lower revenues in Greyhound and First Bus. Group revenue decreased by 1% in constant currency.
"Our overall trading performance as outlined at our results in June continued during the first half, with encouraging performances by our North American business partially offset by more challenging trading conditions for our UK operations and the margin rebasing from new contracts in First Rail," said Chief Executive Tim O'Toole. "In First Student we concluded this year's bid season with higher average price increases than in the prior year, and while acute driver shortages remain a significant ongoing challenge for the industry, we are now better positioned to manage the issue. Our margin progress in the first half and a successful school year start-up due to improved training and planning at our locations means we are well-positioned to deliver our expected margin progress to at least 9% for this financial year.  "In First Transit we continue to experience the impact of reduced demand for our shuttle services in the Canadian oil sands, but have made progress in a number of areas that will be important for continuing the division's track record of profitable growth over the longer term, with contract awards in our existing markets and new business wins in US commuter rail and internationally in the period.
"Although Greyhound continues to face demand challenges from lower fuel prices compared with the prior period and like-for-like revenues decreased by 3.9% in the first half as a result, we delivered a relatively resilient margin performance through actively managing our cost base and from the growing benefits of our business model transformation. "In contrast our UK-based businesses experienced ongoing challenging trading conditions in the period, with recent disappointing volume trends in both bus and rail continuing throughout the first half. First Bus like-for-like passenger revenue improved modestly in the second quarter compared with the first but was still 1.3% lower overall compared with the first half of last year, with high street retail footfall trends and worsening congestion affecting passenger demand in many of our local markets. "First Rail like-for-like passenger revenues increased by 0.7% in the first half, with the slowdown in growth seen across the industry exacerbated by the magnitude of the infrastructure upgrade activity on our Great Western Railway (GWR) franchise in particular.
"Fuel cost savings in both First Bus and First Rail have been partially offset by the US dollar-denominated nature of these costs. First Bus continued to drive further passenger enhancements and cost efficiencies in the first half, with more activity particularly on the cost side to follow through the remainder of the year. As previously indicated, First Rail's trading margin has rebased in the period, reflecting the terms of the new TPE franchise and the new GWR direct award." Looking forward, Tim said: "In the second half (of the year) we will benefit from our normal seasonal bias as well as our continuing focus on stimulating passenger demand growth, targeted investments and cost efficiencies. We continue to expect the Group to make good progress in the current year, recognising that we will likely benefit from currency tailwinds from our substantial North American operations but also face uncertain economic conditions in the UK for the foreseeable future following the EU referendum result.
"As usual, the seasonal nature of our business resulted in a cash outflow in the first half, but this was £124.1m lower than the prior year, or an improvement of £103.8m after adjusting for the rail franchise outflows in the prior period. This substantial reduction in our usual seasonal cash outflow during the first half affirms our confidence in generating significantly increased cash flow over the full financial year."