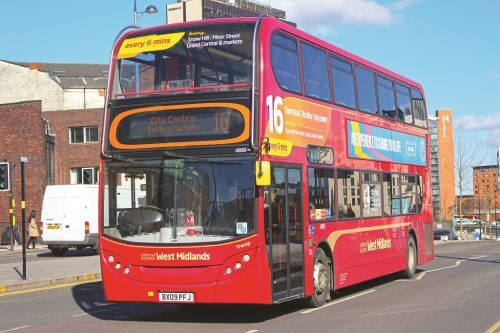 Latest Transport Focus passenger satisfaction survey shows overall satisfaction remains at around 90% – but journey time satisfaction drops from 86 to 80%
The latest independent bus passenger satisfaction survey has shown a sustained satisfaction level from travellers in the West Midlands. Around nine in 10 bus passengers in the region reported that they remain happy with the service overall – and showed improved satisfaction with waiting times and a reduction in anti-social behaviour incidents.
However, satisfaction with actual journey time – once on the bus – continued its downward trend of the last few years, slipping from 86% in spring 2015 to 80% this year.
These findings are the results of the survey carried out in spring, conducted by Transport Focus, on behalf of and jointly funded by Transport for West Midlands (TfWM), part of the West Midlands Combined Authority (WMCA), and bus operator National Express West Midlands (NXWM).
TfWM, formerly Centro, joined forces with local authorities and bus operators, large and small, in the region to form the Bus Alliance, pledged to drive up standards and continue to develop the network through a joint investment of £150m. The West Midlands is the only region to monitor bus passenger satisfaction levels twice during the year – with the spring survey as well as the autumn national survey – currently under way for 2016.
Cllr Kath Hartley, Lead Member for Putting Passengers first on the WMCA transport delivery committee, said this extra investment reflected the authority's commitment to passengers: "These latest findings show that we are managing to sustain satisfaction with most aspects of bus travel. However, a negative finding is once again the time the bus takes to get from A to B – which is really about traffic congestion and only reinforces our commitment to making travelling on public transport a better experience.
"We continue to spread the message of all the economic, environmental and health benefits of public transport as part of active and sustainable travel – and to make it the preferred choice for people in the West Midlands."
The Bus Passenger Survey is the nationally recognised measure of bus passenger satisfaction, used by operators, transport authorities, stakeholder groups and governments, for research and comparison studies.
Peter Coates, Managing Director of NXWM, said: "As part of the West Midlands Bus Alliance, we made a public pledge to keep passenger satisfaction high, so I'm very pleased with these results.
"We also work very closely with West Midlands Police through the Safer Travel Partnership to ensure our passengers feel safe and reassured, and it's very good news that anti-social behaviour on our buses is falling."
David Sidebottom, Passenger Director of the independent watchdog Transport Focus, said: "Passengers tell us they want a bus service that is punctual, reliable and offers value-for-money. It's good to see the West Midlands Bus Alliance continuing to listen to what passengers experience to drive up satisfaction levels."