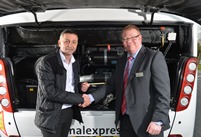 CBW would like to apologise for erroneously referring to Huddersfield-based E.Stott & Sons, trading as a similarly-named but entirely different operator on the other side of the Pennines at Oldham.
The error was contained in a story on p8 of last week's issue ('National Express recognises its partner operators'), which included details of the winners at National Express' annual Operator Awards event.
Stotts' hard work was recognised after the operator came away with no fewer than five awards – including a Golden Spanner Award for best practice engineering; Best Fleet 2015; Gold Standard Achievement for three plus consecutive 'Gold' statues for three consecutive years and over; Sustained High Achievement Awards; and Operator of the Year one to five vehicles.
Carl Stott told CBW: "We were thrilled to receive all the awards as it is recognition for all the hard work that goes into complying and operating services to National Express compliance and service standards. This recognition is for all the team that are involved in the operation of our National Express contracts. Well done to everyone."
INFO
For more details, call 01484 460463 or visit www.stottscoaches.co.uk.