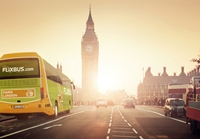 FlixBus is expanding its international express coach network to the UK, competing with Stagecoach-owned Megabus, National Express-owned Eurolines and Ouibus (owned by French state rail operator SNCF) to offer coach services between London and Paris.
The German operator said fares on its services from London to Paris will start from £9.
From March 24, the FlixBus coaches will run non-stop from London to France twice a day. With one transfer, travellers will then have access to 60 international destinations in six countries.
New night services, higher frequencies and direct links to Frankfurt, Luxemburg or Prague are planned to begin by the end of the spring, and the operator says further destinations in the UK are in the pipeline.
André Schwämmlein, FlixBus Founder and Managing Director, said: "The cross-border link from London to France is our first step into the market in the UK.
"We are soon going to connect the capital to the most popular cities in mainland Europe by day or night. We also want to extend our service to other destinations in England."
The service includes free WiFi, air-conditioning and power outlets and passengers can bring up to three items of luggage with them. Tickets are available on the operator's new UK website www.FlixBus.co.uk, as well as on the FlixBus app.
Established in 2013 in Germany, FlixBus is now operating in 18 European countries and transported around 20 million passengers last year. The operator is backed by US growth investor General Atlantic.
Bettina Engert, FlixBus Spokesperson, added: "Spontaneous travellers can get their FlixBus ticket directly from the bus driver, if there are free seats available but they have to pay the standard price."