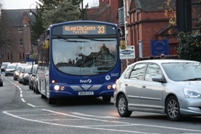 Councils are invited to apply for a share of the £170m Local Pinch Point Fund to remove bottlenecks on the highway network.
Advice for local councils wanting to apply for a share of a £170m fund has been published by Transport Secretary Patrick McLoughlin.
The funding forms part of an additional £1.5bn of government investment, announced in the Chancellor's Autumn Statement, to improve the road network and reduce congestion.
The Local Pinch Point Fund will tackle obstacles on the local transport network which restrict growth by limiting the movement of goods, employees and customers. The investment aims to build on the success of the Highways Agency's Pinch Point Fund for the strategic road network, which received an extra £100m in the Autumn Statement.
Transport Secretary Patrick McLoughlin said: "Tackling congestion and making the most of our infrastructure is essential for economic growth. We have already provided significant funding to local authorities to promote growth but more can be done. This funding will unlock development sites to help local businesses and communities."