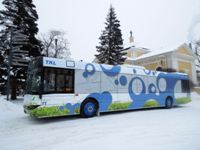 FINLAND Two Urbino 12.9m Hybrids are the first Solaris buses to be delivered to a Finnish customer – Tampereen Kaupunkiliikenne (TKL) of Tampere. Solaris says fuel consumption is reduced by up to 30% compared to diesel counterparts.
Presented in a unique colour scheme their livery was designed by Timo Huusko, who won a competition organised by TKL. Entitled "BlueBlob", the winning scheme depicts the colours of water drops and green grass.
"Until now, Finland was one of the last Nordic countries without Solaris buses. We hope that very soon, Finnish passengers will discover all the advantages of Solaris buses as counterparts in Sweden, Norway and Denmark already have," said Ma?gorzata Olszewska, Sales and Marketing Director.
The city of Tampere is the second-largest urban area and third most populous municipality in the country. The 300,000 inhabitants are served by 135 buses, running on 30 lines.
Meanwhile, Prague City Transport has ordered 40 Solaris Urbino 8.9 LE midibuses which will be delivered in batches between now and 2015. The first 10 arrived at the end of last year.
The contract is worth 162 million Czech korun (6.5 million euro).
The buses offer 27 seated and 39 standing spaces and are powered by 6.7-litre Cummins diesel engines. They are matched to ZF EcoLife automatic gearboxes.
Ma?gorzata said: "The Czech Republic was the first export destination for our buses in 2000 and it continues to be one of our The seven 12m Citeas are powered by Cummins EEV engines most important markets."