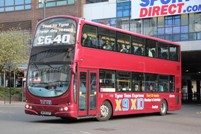 Go North East plans to introduce new double decker buses this summer in response to a customer consultation.
The new vehicles, part of a £1.1m investment, will run on the Tyne- Tees Express X9/X10 routes, which run half-hourly between Tyneside and Teesside.
Customers were also asked what extra features they would like to see on the double deckers. The most popular (with 61% of respondents) was 'more powerful engines to speed up journeys and improve reliability'. This was followed by 'Wi-Fi' (54%), 'air-conditioning' (51%) and 'more legroom' (48%).
Martin Harris, commercial director of Go North East, said: "We've been looking at ways to better meet customers' needs and we're pleased hundreds of people took the time to contact us. The results are reflected in the changes we will be making.
"It also goes to show we are not arguing with Nexus and the Integrated Transport Authority over so called 'Quality Contracts' (QCs) to protect the status quo. We embrace change but it must be the right kind of change aimed at bringing real benefits to passengers. The QC proposal, in our opinion, is totally inappropriate for passengers and, should it be sanctioned, will result in fewer bus services that are more expensive."
Mr Harris said the group is working with customers, staff and other stakeholders to shape the Go North East Charter for Positive Change which will soon be published on its website. "This charter will offer a credible alternative to QCs and include real measurable benefits for passengers. The shaping of the charter will be an iterative process and will be evidenced by significant and ongoing customer consultation."