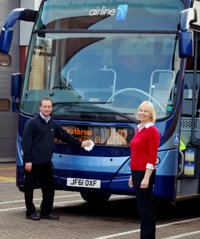 Oxford Bus Company has updated its displays for 'the airline' coach service.
Instead of a route number, the airline coaches will use LHR for Heathrow and LGW for Gatwick.
Helen Fowweather, finance and commercial director of Oxford Bus Company, explained: "The airport codes LHR and LGW are known throughout the world and so it makes sense to switch to them as route indicators. On the return journeys from Heathrow and Gatwick the coaches will show OXF as the route indicator."
The main part of the destination display will still show the route details. The new look came in on Sunday (February 12).
An extra stop is also being introduced on outward and return journeys to the airports.
Helen continued: "Market research shows many passengers to the airports travel from South Oxfordshire and so we are introducing a new interchange stop. the airline will pick up in Speedwell St, stop S2 and set down at stop H5.
"The new stops make it even easier to change from our services from the south and routes served by our sister company, Thames Travel. It's a stress free way to get to Heathrow and Gatwick."
In December Oxford Bus Company introduced 18 brand new coaches on the airline, as featured in CBW1016. At £4.5m it was the single biggest investment in coaches in the Go-Ahead Groupowned company's history. It also represented the first fleet order for the recently reintroduced Scania Plaxton combination.