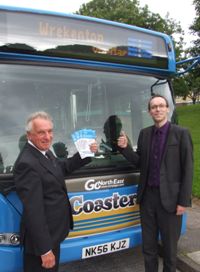 Following a public consultation undertaken by Go North East (GNE), a route linking Allerdene and Harlow Green in Gateshead with Newcastle has been restored.
The operator agreed to ask its customers in Allerdene and Harlow Green what they wanted from their bus service and 8,000 questionnaires were delivered to residents in the area.
Most bus users suggested the service to Newcastle should be restored and GNE has responded by extending its Coaster route 24, which currently runs from Whitley Bay to Gateshead via Newcastle, to Wrekenton via Allerdene and Harlow Green. The Coaster will run every 15 minutes between Whitley Bay and Gateshead, with buses then continuing every 30 minutes to Wrekenton. The new service began on September 1.
Speaking at the launch of the new-look Coaster route, Graham Hill, Service Design Manager at GNE, said: "We're really pleased to have worked in partnership with Gateshead Council and to have had the great response that we did from the residents of Harlow Green and Allerdene to the consultation. We always listen to what our customers have to say and I'm delighted we were able to respond to passenger's feedback by providing the new link direct to Newcastle. Doing this by extending the Coaster route also offers new connections to Byker, North Shields and the coast, which I'm sure people will find handy."
Cllr John McElroy, of Gateshead Council, said: "Since the route was changed last year, many people had been in touch about their desire for a direct link to Newcastle. Following discussions between Gateshead Council and GNE, a consultation was conducted which has resulted in this new service providing direct links to Newcastle and North Tyneside."