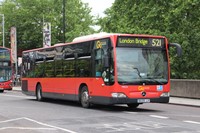 London bus operations see underlying revenue growth of 7.0%, but north east  hit by 'economic weakness'
The 2015/16 financial period will represent another year of strong profit growth for Go-Ahead, according to the group's pre-close trading statement for the year ending July 2, 2016 released last week. Full year results will be  announced on September 8.
David Brown, Group Chief Executive of Go-Ahead, said: "Our full year expectations for the Group as a whole, and for our bus and rail divisions remain unchanged. On an adjusted basis, 2015/16 will represent another year of strong profit growth for the Group. The company remains in a strong financial position, with robust cashflows.
"Bus revenues in London and the regions continue to grow, with stronger growth in those regions with growing economies. The company expects to hit the £100m bus profit target on an adjusted basis."
Revenue and passenger journey growth are improving in the fourth quarter, but economic weakness in the north east continues to affect its operations. Excluding the north east, Go-ahead revenue growth is expected to be 2.8% and passenger growth is expected to be 1.2%.
However, revenue and mileage in London continue to grow strongly. Excluding the impact of reduced QICs (Quality Incentive Contracts), underlying revenue growth is 7.0%.
The group's rail division, which through its 65%-owned subsidiary Govia, operates Govia Thameslink Railway (GTR), Southeastern and London Midland franchises. Go-Ahead said the latter and former continue to trade well, with London Midland enjoying passenger revenue growth of 11.2%.
Commenting on the challenging GTR franchise, David Brown said: "The additional resources being invested in GTR to support service delivery are depressing margins on that contract in the current year and will also impact on next year's margins. While we do expect margins to improve in the longer term; given the very challenging performance and industrial relations environments, we no longer expect to recover the profit shortfalls. As a result margins, on an adjusted basis, over the life of the contract are now more likely to be nearer to 1.5% than the 3% previously expected."
Overall, the group said it remains in a good financial position with strong cash generation and a robust balance sheet, supporting our progressive dividend policy and allowing flexibility to pursue value-adding opportunities.