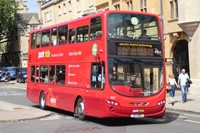 Adjusted operating profit for bus reaches £47.8m, increasing by 1.5%
Go Ahead has released its half year results for the six months ended December 26, 2015.
Group revenue increased by 6.8% (£106.3m) to £1,665.0m, while adjusted operating profit stood at £80.7m, a £13.3m and 19.7% increase on the same period in the previous year.
Adjusted profit before tax stood at £71.9m (previously £57.0m). Adjusted earnings per share were up by almost a quarter at 116.8p (previously 93.5p) and proposed dividend per share stood at 28.33p, up 1.73p on the previous results.
Go-Ahead's overall bus operating profit was up 1.5% at £47.8m, with regional bus up 7.0% to £26.1m with revenue growth of 2.6%. In London, adjusted operating profit was down 4.4% to 21.7%, which the group attributed to roadworks and congestion.
David Brown, Group Chief Executive, commented: "I am pleased to report a solid set of results for the first half of the financial year.
"Our bus division performed well. Both regional revenue growth and passenger growth were stronger in the second quarter as we have continued to enhance our customer proposition. We are proud of our high levels of regional bus customer satisfaction, which remain the best in the sector at 90%.
"We remain the largest bus operator in London in an expanding market. Growth in London bus mileage increased in the first half due to high contract retention rates and contract gains. We have also benefited from contract variations and rail replacement work.
"This helped offset the effect of reduced Quality Incentive Contract (QIC) payments, which have been impacted by roadworks and excessive congestion in the capital. We have been working with TfL on finding ways to improve service reliability and mitigate delays.
"During this period the Group also welcomed news of contracts wins in both bus and rail services. We were pleased to be awarded a direct award contract for London Midland from April 2016 to October 2017.
"Overseas, Go-Ahead was successful in bidding for a 25-route bus contract in Singapore and two German rail contracts. These opportunities establish Go-Ahead's presence in these strategic markets and add value to our existing portfolio.
"Looking ahead to the full year, our expectations remain unchanged."