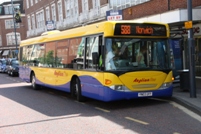 Go-Ahead Group has released its full year results for the 12 months ending June 30, 2012.
The company claims it has produced a strong performance, with results in line with management expectations.
It saw the highest ever passenger levels across both bus and rail and record profits in deregulated bus.
The group has posted revenues of £2.42bn compared with the £2.3bn for last year.
Pre-tax profits fell to £94.2m from £97.6m, affected by the £13m one-off rail contract management benefits last year.
Earnings per share increased from 135.2p to 141.9p. The company also recorded its largest ever bus fleet investment of £80m.
CEO David Brown said: "Over the last year, Go-Ahead has made significant progress in building a stronger Group and delivering on our strategic goals. Most recently, I am really proud of the key role our staff played in helping to deliver a highly successful transport network for the London 2012 Olympic Games.
"The year saw the Group's largest ever investment in our bus fleet and the roll-out of "the key" across our bus operations outside London.
"Our deregulated bus business performed exceptionally well in the year, delivering record operating profit and sector leading passenger growth and our London bus operations remain best in class. We acquired four valueenhancing deregulated businesses, strengthening our portfolio of operations in the South. In our regulated business, we moved into North London with the acquisition of the Northumberland Park depot."