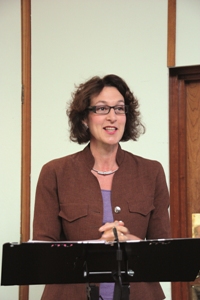 The prizes at this year's UK Bus Awards will be presented by Bus Users UK chair Gillian Merron, whilst the ceremony will be compered by Jane Hill, one of the BBC News team of experienced newsreaders.
Former Lincoln MP and transport minister Gillian Merron was elected chair of the consumer group Bus Users UK in the spring. She last attended the awards as Minister of State at the DfT in November 2006, and helped launch the 2007 scheme in a ceremony at Church House, Westminster.
UK Bus Awards chairman John Owen commented: "We are deliighted that Gillian is able to join us in November. She was a great friend of the awards whilst she was at the transport department – and we've worked with Bus Users UK for many years on our job of recognising and rewarding great customer service in the bus industry."
Jane Hill is a BBC TV news presenter working on BBC1 and the BBC News Channel, working also on Radios 2 and 4. She has a Politics degree from London University and worked in radio as a producer and reporter for ten years before moving into television.
John Owen added: "We're very much looking forward to welcoming Jane to the Bus Awards on what will be a very busy news day with the Chancellor's autumn statement happening as well."
The UK Bus Awards Annual Awards Ceremony takes place on Tuesday 29 November 2011 from 1100hrs onwards at the London Hilton Hotel on Park Lane, at which the winners of 21 different categories will be announced. Tickets are now on sale. Visit www.ukbusawards.org.uk