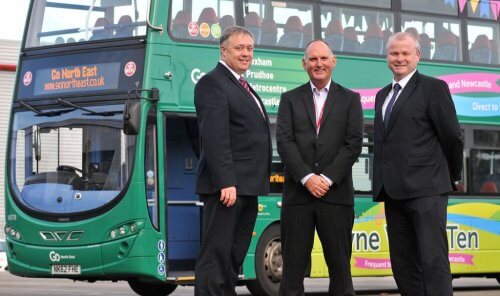 Go North East and Gateshead College's joint Bus Driver Routeway training programme has received a royal seal of approval in this year's Princess Royal Training Awards.
Created by the two organisations in partnership with the Jobcentre, 250 learners have so far taken part in the scheme to improve their chances of getting a job.
Their success in interviews has risen from 27% to 76%, with the number of participants gaining employment increasing from 9% to 44% since the scheme began.
Keith Robertson, Recruitment and Training Manager at Go North East, said: "It's an honour for Go North East to be recognised as having one of the UK's best workplace learning programmes.
"The hard work that our recruitment and training team have put in to deliver this programme has received the recognition it deserves.
"They play a vital role in getting unemployed people across the region back into work, with the help of Gateshead College and the Jobcentre."
Ivan Jepson, Director of Business Development at Gateshead College, commented: "To be recognised at this level is a great achievement for Go North East and Gateshead College, who were also recognised separately for the training we have in place for our own employees.
"The whole point of investing in skills is to strengthen the performance of your business and the Bus Driver Routeway is a fantastic example of one which does just that as well as creating real opportunities for local people. Congratulations to everyone involved."
Patricia Stringfellow, Chair of the Princess Royal Training Awards Commission, added: "You are truly an exemplar of training and learning best practice."